Tire Services Page for Groove Ford
When you need tires for your Ford, doesn't it just make sense to go to a Ford dealership? Someplace where you're already a familiar face and you can just make it a one-stop-shopping destination? At Groove Ford, you can count on us for the exact right tires for your vehicle's make and model, your needs, your budget and your driving habits.
Whether you need all season or touring tires for your sedan or crossover, all terrain tires for a truck or SUV or ultra-high-performance tires for a sporty ride, you know you can find them at Groove Ford, along with factory-certified service technicians to take care of your needs. Take advantage of our experience and our competitive prices on all tire services, purchases and installations!
Read on to find out more about what's involved in good tire maintenance and how important things like regular rotations and inspections really are. You can also find a comprehensive list of different tire types and indicators of tire wear; feel free to give us a call at 720-606-5827 to set up your next tire service appointment or just address any questions you might have.
Tire Rotations And Changes
Routine tire rotations at an interval of about 5,000-7,500 miles are crucial to getting the longest wear with your tires. Acceleration, braking and cornering all put stresses on tires, as the vehicle's weight and inertia come into play during routine driving. Rotating them according to manufacturer's recommendations will even out wear patterns and improve road manners and drivability.
With careful maintenance, routine driving and number of miles per year, a set of tires can generally last about six years. At Groove Ford, we're happy to do a free inspection of your vehicle during a visit. That includes taking a look at your brakes and rotors, inspecting the wheels themselves and recommending a rotation or any other service that might be indicated.
Tire Types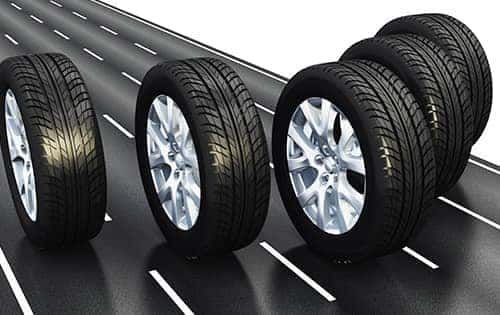 Here's a brief rundown of a few different tire types that can be the best fit for your vehicle and your lifestyle. At Groove Ford, you can come to us for a great selection of tire types for different vehicles, terrains and seasons. Here are some pretty typical tire types for drivers in Centennial, CO:
All season tires: Most drivers find that all season tires are the best compromise of traction, handling, long wear and ride quality. All season tires usually feature a pattern of grooves and ribs that help disperse water and resist hydroplaning, and a tread compound that's designed for long wear and low noise.
Touring tires: Touring tires offer the same kind of long wear and year-round traction as all season tires, but are designed for improved ride quality and low noise. Touring tires are a perfect choice for luxury cars, SUVs and crossovers that put in a lot of miles on long trips.
Winter tires: Modern winter tires offer handling, noise levels and ride quality that rival the best all-season tires, but with a more aggressive tread pattern that bites into slush and snow and a tread compound that stays supple at sub-freezing temperatures for traction. Just remember that winter tires will wear quickly in warmer weather and shouldn't be used when temperatures are above about 45 degrees F.
Performance tires: Performance and ultra-high-performance tires are engineered with a tread pattern that enhances steering response and cornering ability, and a rubber compound that's "stickier" for better adhesion to the road.
Tire Wear Warning Signs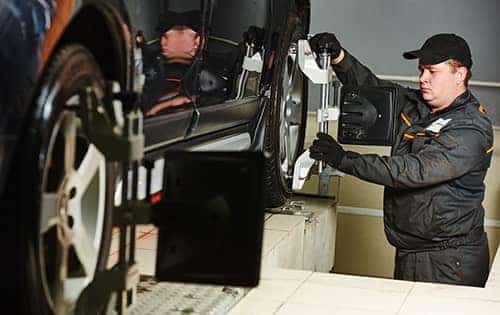 Tires wear very gradually, of course, and it can be way too easy to just take them for granted. Just be mindful of the fact that your safety is literally riding on your tires and they are your connection to the road when it comes to braking, cornering, wet-weather traction and long drives on the Interstate. Here are some things to watch for:
Reduced traction when braking or cornering
Tendency to hydroplane on wet pavement
Rougher or noisier ride
Noticeable tread loss; uneven tread wear toward the inside or outside edge of a tire can point to an alignment problem
Why Service at Groove Ford?
At Groove Ford, we're here to handle all your automotive service, maintenance and repair needs, and that includes tires. That means you can count on competitive up-front pricing with no hidden fees or surprises, service appointments around your schedule, top-notch service and specials on a regular basis. Here are some other great reasons to come to Groove Ford for your next service or repair:
Qualified, experienced service techs
Genuine OEM parts
Parts ordered online
Service appointments scheduled online