When you press your brake pedal, a complex system goes into motion to help keep you and your passengers safe. That's why it's so important to have highly skilled technicians service your brakes. At Groove Ford, we have the right parts, tools and certified-trained technicians to take care of your every need. Here are the most common warning signs of a brake problem:
Brake Inspections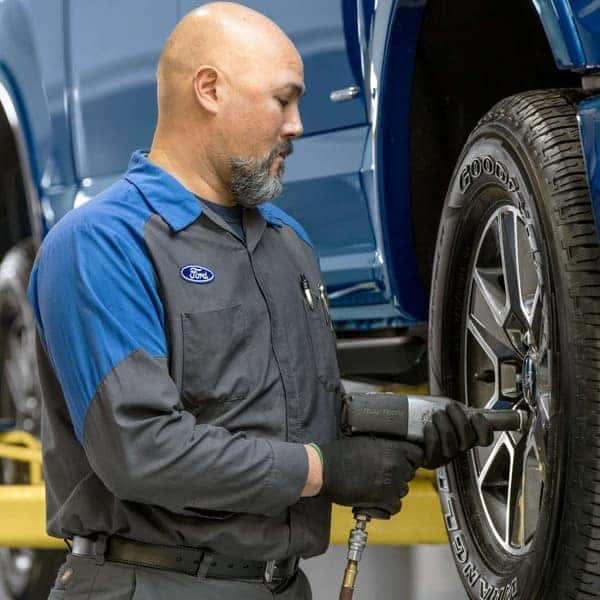 Stay safe and help maintain your Ford's overall performance and value with regular brake inspections at Groove Ford. Enjoy a free brake inspection with every trip to our Service Center, our team of certified technicians will review all your brake components, brake pads, and brake fluid lines for signs of wear and tear. Our comprehensive brake inspection includes:
Checking for even wear and measuring brake pad/shoe thickness
Ensuring brake lines and master and wheel cylinders aren't leaking
Checking rotors for hot spots and run-outs
Inspecting calipers for wear, fluid leaks and movement
Checking anti-lock brake sensors
Testing hardware and making necessary adjustments
Checking brake fluid condition and levels
Brake Pad Replacement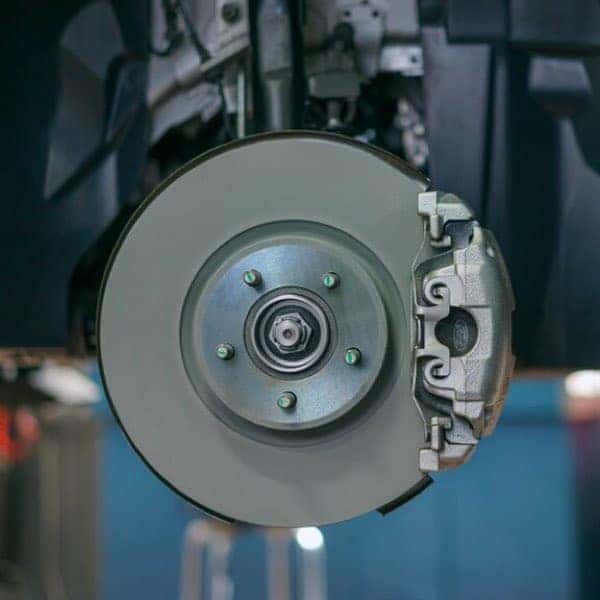 Brake Pads get clamped against the brake rotors to create resistance that slows a vehicle down. Brake pads are designed to wear down quickly so as to not damage the brake rotor. Since we know that brake pads are expected to wear out, it is an excellent decision to get them inspected regularly by an expert technician to ensure that they don't wear out entirely to compromise passenger safety. Simple ways to inspect your brake pads includes:
Listen for the metal fibers squealing
Review brake calipers and rotors
Ensure brake pads aren't ¼" thick or less
And if you find out it's time for new brake pads, stop by for a Brake Pad Replacement Service today. Our certified technicians will remove and replace the old brake pads with new Ford OEM Brake Pads. The Certified Technician will also inspect the other brake system components to ensure that they are in good condition.
Brake Fluid Exchange
Brake Fluid Exchange Service starts with a Certified Technician that drains the old brake fluid and replaces it with a new Ford-approved Brake Fluid to restore peak hydraulic performance to the brake system. Service includes an inspection of the entire brake system, including the pads, master cylinder, lines, calipers, and rotors. Rest assured that the service will restore your brake system and fluid to peak performance at factory specifications.
Service at Groove Ford Today
For professional, high-quality brake service or repair in Centennial, CO, there is only one place to take your vehicle. Visit Groove Ford today to have your vehicle repaired, maintained, or fine-tuned. Effective vehicle maintenance is the key to extending the life of your vehicle, and we are well-trained to make sure you get the right service. Schedule your service online or by phone if you have any questions. We look forward to all appointments and will have the parts and/or fluids ready to get the job done right! Other benefits of Groove Ford brake services include:
Original equipment manufacturer (OEM) parts
Full-service maintenance and repair facility
Parts and labor warranties
Clean, comfortable waiting areas with free Wi-Fi
Shuttle service to and from your home
Friendly and knowledgeable staff